About Me
Most of you probably know a lot about me already, but in case you don't, here's a quick summary.
School
I'm in my third year in law school at the University of Virginia School of Law. It's a great place to go to school -- founded by none other than Thomas Jefferson himself! It has a beautiful campus, it's much less pressure (supposedly) than other law schools, and since it's a state school, it costs a bit less than other top-ten schools. Nonetheless, I can't wait to graduate! Three years is just too long.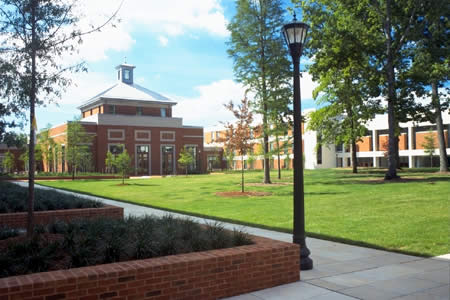 Most of my time at school is taken up working on the managing board of The Virginia Law Review. I am one of the executive editors, so it's my job to proofread and edit all of the pieces we publish, format them for printing, and coordinate with the publisher to make sure the books are printed on time. It may not sound like much work, but it's an enormous time commitment. It's a great organization to be a part of, though. Check out our web-site at the link above.

Just for kicks, I've posted my resume online.
After Graduation
Fortunately, I have a job -- two jobs, actually -- waiting for me after I graduate in May 2003.

First, the family is headed to Dallas, Texas (hum the theme song from Dallas here) -- home of the Cowboys, the Cotton Bowl, and, um, other famous things. I'll be working for the Honorable Patrick E. Higginbotham, a judge for the United States Court of Appeals for the Fifth Circuit. My clerkship should be challenging, but also a lot of fun. Unfortunately, it will only last for only one year, so we'll try to see as much of Dallas as we can while we're there. I haven't actually been to Dallas yet, but I hear it's a great city. Take a look at the skyline:
After that, we'll be moving to Houston, Texas, to settle down. I've accepted a job at Baker Botts, one of the country's oldest law firms. I worked for Baker Botts last year, and I'm really looking forward to returning in a couple of years as an associate.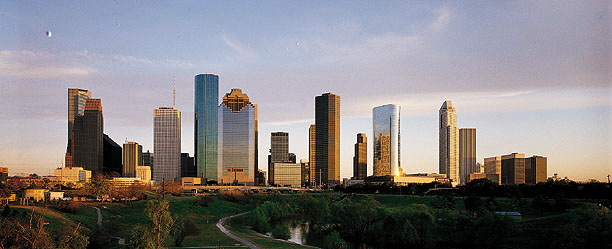 The Houston Skyline, from Buffalo Bayou, where we lived last summer. The Baker Botts building, One Shell
Plaza, is the medium-tall white building in the left part of the photo, right next to the very tall blue-glass building.
So why did we pick Houston, you ask? Well, good question. Originally, when we were trying to decide where to move after law school, we were thinking in terms of climate. I'm originally from Miami, and while I'm ok with cold weather, I don't love it. My wife, who grew up in the arctic (a.k.a. Wisconsin), hates the cold, so believe it or not, we targeted Houston for its climate! After spending some time in Houston last summer, though, we really grew to love it. Everything you could possibly want is there -- from museums to cultural events to sports (even a major tennis tournament!!), and it's actually relatively inexpensive to live there. I guess we would have to admit that Houston isn't the prettiest city in the world, but it's very functional, very livable. And the Skyline, in my opinion, is one of the prettiest I've seen. All in all, we can't wait to get back there.
Tennis
One of my favorite pasttimes is playing tennis. I'm pretty good at it by now, but I don't play regularly enough to be really good. Anyone out there who wants to teach me a good reliable kick serve, zap me an e-mail!
Music
I've always loved music, and (until law school, at least) I've always been involved in some sort of formal music program or endeavor. I've played piano since elementary school, and in junior and senior high school, I played trumpet and alto sax. I took up singing in college when I joined the Harvard Glee Club. I'd have to say that HGC was probably the highlight of my musical career. HGC is an all-male choir of about 60 guys, and it specializes in performing folk songs (like Shenandoah, Sally Garden, Loch Lomond, and Gentle Annie) and renaissance music. For those of you who haven't heard the sound of an all-male choir, it's really something extraordinary; "mixed" choirs (male & female) just don't have the same rich, mellow sound. Unfortunately, all-male choirs are a dying breed. I only know of two college all-male choirs: HGC and the Virginia Glee Club (which coincidentally is at the University of Virginia). In addition to singing in HGC, I also joined HGC Lite, the 12-person a cappella group that was affiliated with the Glee Club. HGC Lite performed more popular styles of music, like jazz, pop, etc.

When I moved to DC after college, I immediately joined a local a cappella group called Take Note! Like HGC Lite, Take Note! performed popular music -- everything from jazz and big band to showtunes and rock songs. It was a lot of fun. When I joined it initially, it was a 16-person group, but it eventually downsized to about 7 people. It's still an active group, ready to perform at private parties, office parties, and so forth, so (here's the sales pitch) give them a call!
My Car ~ The Freelander
Well, last but least, there's my new car. OK, it's not quite mine because I'm just leasing it, but it's an amazing car. When I get my digital camera repaired, I'll post some pictures!